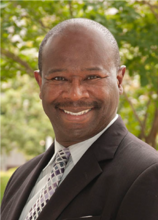 Darin A. Latimore, MD, has been Deputy Dean for Diversity and Inclusion at the Yale School of Medicine (YSM) since January 2017, and is the School of Medicine's inaugural Chief Diversity Officer.
Alongside YSM senior leadership, Dr. Latimore is responsible for developing a comprehensive plan for furthering diversity, equity, and inclusion at the school, including a robust recruitment and retention program for faculty, and students from historically underrepresented in medical communities. He coordinates with such groups as the Diversity, Inclusion, Community Engagement & Equity (DICE), the Minority Organization for Retention and Expansion (MORE), the Committee on the Status of Women in Medicine (SWIM), the Committee on Diversity, Inclusion, and Social Justice (CDISJ), and the Dean's Advisory Council on LGBTQ Affairs.
As part of his current strategy is to improve the cultural climate for all of YSM.  Dr. Latimore has given over 50 talks on the topic of unconscious bias, training 1200 people.  Dr. Latimore's research focus is microaggression and how it affects health professional students in the educational environment.
Dr. Latimore's passion for promoting diversity and inclusion stems from his own background. As an undergraduate at University of California, Berkeley, he felt isolated on a campus where there were few African-Americans and even fewer students from his socioeconomic background. After obtaining his medical degree at University of California, Davis School of Medicine, he completed his residency in internal medicine at University of California, Davis Medical Center.