Many people focus on what's wrong - problems, struggles, and stressors - and lose sight of what's good and strong in themselves and others. Mindfulness-Based Strengths Practice focuses the power of mindfulness on personal character strengths. This synergy can then be used to create one's best life and to better navigate challenges. Learn about what your unique signature strengths are and how best to use them mindfully at work and at home, with colleagues, friends and family. Shift your focus from what's wrong to what's strong.
Presenter: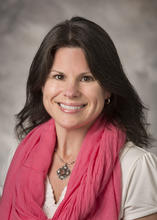 Breakout Session Presenter
Danielle Casioppo is the Health Educator for Being Well at Yale. Over the last six years in her role as Health Educator, she has focused on bringing new and meaningful stress reduction, mindfulness, positive psychology-based programs to Yale faculty and staff.
After discovering positive psychology and applying the evidence-based interventions in her own life, Danielle knew she had to share this transformational information with the Yale community.  One of the programs that has made the biggest impact in her life is Mindfulness-Based Strengths Practice and she now leads MBSP groups at Yale while completing her certification as an instructor through the VIA Institute on Character.
Danielle is also a certified Hatha yoga teacher and Laughter Yoga leader. She offers yoga-based classes and workshops at Yale Health and for other departments by request. Related to this work, she is the Principal Investigator of a research study, under the guidance of Dr. Rajita Sinha, which evaluates employee stress levels before and after participating in Danielle's Mindful Movement for Stress Management series.
Outside of Yale, Danielle has been invited to offer stress reduction, yoga classes and talks to the public.